The market continues to be choppy these days as investors seem unsure if a deeper recession is ahead or if the indices will stage a broad rally in the second half of the year. The mood has become more bearish over the over the past two weeks, which is why it's more important than ever for investors to overweight value stocks in their portfolios.
Oracle (NYSE: ORCL), in particular, remains a mainstay in my portfolio. This software giant is one of the most pervasive pieces of infrastructure in modern computing, and while Oracle has lost its luster of overall growth, the company's advancements in the cloud and its long history of performance stars make this a very safe bet. Predictably, while Oracle is down about 9% year-to-date, its losses are far more benign than those of its peers in small- and mid-cap software.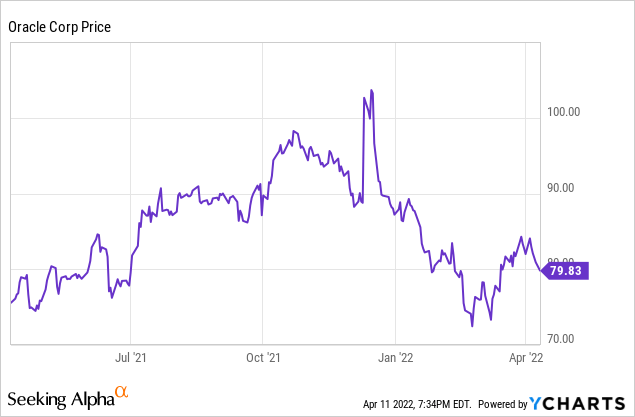 Oracle's Bullish Thesis Revisited
I'm staying bullish on Oracle and recommends investors to add this position or take advantage of declines to extend an existing position.
For investors unfamiliar with the name, here's a look at what I think are the main upside drivers for Oracle:
Oracle's portfolio is broad and covers all spectrums of enterprise technology. Oracle now has a full suite of front-end applications covering functions like supply chain, finance, HR, sales – everything under the sun. The company also retained its traditional strength in backend infrastructure, with products like the Oracle Autonomous Database. Not all of Oracle's products have to be winners: for now, cloud applications continue to see 20-30% growth, offsetting declines in legacy segments.
Vending machine. Oracle basically invented the sales manual in Silicon Valley. Its late co-CEO, Mark Hurd, is often credited with institutionalizing the "business development rep" position, the army of cold calling that now represents one of the most common entry-level positions. in industry. Oracle has one of the most well-oiled sales processes in enterprise technology and continues to leverage this playbook to grow its business.
Profitability has long been at the core of Oracle's DNA. Oracle has retained huge profitability, even with its move to the cloud and away from lucrative license/maintenance deals. Its mid-40s pro forma operating margins are among the highest in the software industry.
Recent personnel decisions could increase profitability. Additionally, Oracle's decision to move its headquarters from Redwood Shores (a small town in the San Francisco Bay Area that is almost exclusively dedicated to Oracle's headquarters) to Texas could help reduce Oracle's overall personnel costs. . He also announced a flexible remote work policy that should also reduce overhead (Larry Ellison himself has committed to working out of Hawaii for the time being).
The other major factor to consider is that Oracle spent $28 billion to buy Cerner, which goes without saying that this is Oracle's biggest deal ever. What agitates investors at the moment is that Oracle has provided very few details to justify the acquisition or specify the synergies it intends to draw from it.
However, for the upgrade here: Cerner is already a well-oiled producer and earner. Over the past twelve months, the company generated $5.8 billion in revenue and $0.6 billion in GAAP net income (which will increase Oracle's annual revenue and profit by approximately 14% and 5%, respectively). But where I think Cerner is most critical is giving Oracle the distinction of being the only large-cap software company that has achieved a major milestone in healthcare, which is arguably the industry that has been less disrupted by technology to this day. In other words, in addition to immediately contributing to Oracle's revenue and earnings, Cerner opens the door to tremendous TAM expansion and category leadership in healthcare in the future. The acquisition is expected to close in the fourth quarter of FY22.
Finally, a valuation check: at the current share price near $80, Oracle is trading at a 15.2x front P/E multiple based on Wall Street's pro forma EPS consensus of $5.26 for FY23 (Oracle's year ending May 2023; Yahoo Finance data). This still represents a discount to the S&P 500.
The bottom line here: Oracle software continues to permeate every layer of modern computing, from front-end applications to back-end infrastructure and databases. The company's acquisition of Cerner gives Oracle a major differentiator from its other large-cap software competitors, and its relatively cheap valuation signals an excellent entry point.
Q3 Download
Now let's take a closer look at the highlights of Oracle's most recent quarterly results. The third quarter revenue summary is shown below: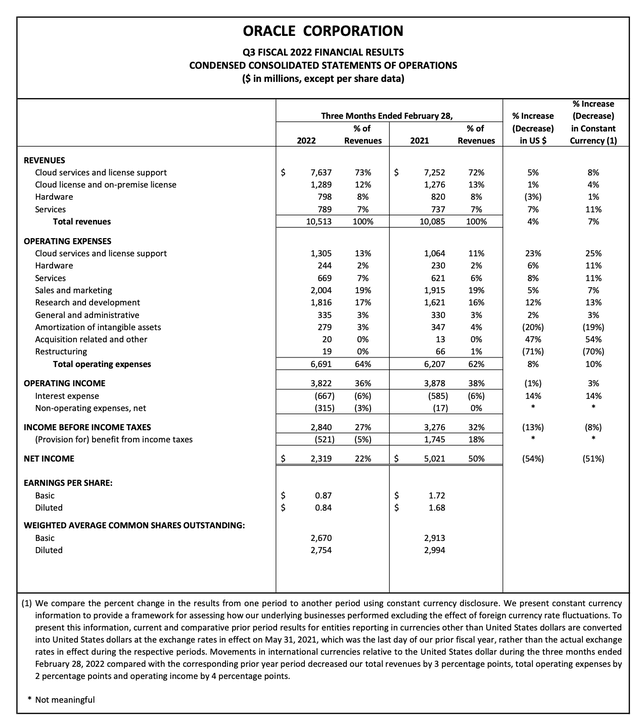 Oracle's revenue rose 4% year-on-year to $10.51 billion, in line with Wall Street expectations and above the midpoint of the company's own revenue guidance for the quarter. At constant exchange rates, the company's revenue growth was actually three points higher at 7% year-over-year. Oracle management noted that the third quarter represented the strongest quarter for organic year-over-year growth since the company began its cloud journey. – which is an indicator that the move to the cloud has matured and that cloud growth more than offsets the decline of legacy licensing products. Also note that Oracle CEO Safra Catz mentioned on the third-quarter earnings call that the company was pushing for double-digit revenue growth in FY23, although it has not yet published any official targets.
Total cloud revenue in the quarter grew 26% year-over-year at constant currency to $2.8 billion, representing just over a quarter of Oracle's total. The company's flagship Fusion Cloud ERP product, meanwhile, saw even stronger growth of 35% year-over-year. Netsuite, the small and mid-cap ERP system that Oracle acquired in 2016, also continues to show strong year-over-year growth of 29% (in fact, in the five years under Oracle ownership, Netsuite's growth has barely diminished from pre-acquisition levels).
Here are some insightful comments from Founder/CTO Larry Ellison on the company's commercialization progress, including Oracle's progress in healthcare, from his prepared remarks on the third-party earnings call. trimester :
First, how is our SaaS business doing right now? Overall we are making incredible progress, gaining more and more in the ERP and HCM back office. The third quarter was an exceptionally strong quarter for cloud ERP sales. We now have over 10,000 Fusion ERP, HCM customers. And for the first time, we're starting to see — we've been in this business long enough. We are starting to see ourselves grouping together certain industries, starting with the largest industry on Earth, health care.

OK. So how are we doing in health care? We already have Tenet Health, Kaiser, Mayo Clinic, Cleveland Clinic, Northwell Health, Mount Sinai, Atrium Health. I can list a long list of ERP and HCM wins in healthcare – they're all healthcare providers. We've added a few more healthcare providers, mostly hospitals and clinics. We added CHS Community Health Services. It's a consortium, it's 83 hospitals, and it's an ERP, HCM, SCM win there. And we are replacing Kronos.
Kronos, according to Ellison's commentary, is currently the "gold standard" in hospitals for flexible hours – responsible for assembling the armada of doctors, nurses and medical assistants who work according to disjoint schedules in several hospitals. The company begins snatching Kronos from community hospitals, as well as winning competitive competitions against Workday (WDAY) and SAP (SAP).
On the innovation front, Ellison is leading the charge for Oracle to develop an open-source MySQL (database offering) to compete with Amazon AWS' Aurora (AMZN), claiming to deliver transaction processing at 7 times the speed of offers from Amazon and at 2.5-5x lower cost. Database products have always been Oracle's signature strength, and it's encouraging to see the company continue to pursue revenue growth opportunities in this space.
Now earnings have fallen this quarter – GAAP net income fell -54% year-over-year to $2.32 billion. However, note that operating margins have remained relatively flat year-over-year – most of the decline in earnings is due to the stock market plunge in the first calendar quarter, which led to profit losses against the market this quarter. The positive news on margin is that for the full year FY22, Oracle still expects pro forma operating margins of 45-46% – far higher than most software peers, and 1- 2 points higher than Oracle's pre-pandemic margin of 44%; indicating a business that is poised to scale, especially as the transition to the cloud has matured.
Key points to remember
Oracle remains a solid long-term software investment that has its claws in various areas of enterprise software. In particular, unlike many investors who believe the Cerner deal is risky, I believe Oracle's strengthened stance on healthcare uniquely positions the company relative to its other large-cap software peers. . Stay long here – the opportunity to acquire Oracle at a forward P/E of around 15x is attractive.