Micron technology (NASDAQ: MU) reported very weak near-term earnings and forecasts, showing that the current downturn is much more severe than expected a few months ago. This is a stock that long-term investors should avoid for the time being.
Background
As I have analyzed in previous articles, I am optimistic about the semiconductor industry in the long term, but I do not generally invest in companies with a higher cyclical profile, because I want my portfolio to be exposed to secular growth trends. Nevertheless, about a year ago I bought Micron out of tactical play, given that its valuation was quite cheap compared to its peers and its own historical valuation.
At the time, Micron was trading at less than 6 times its forward earnings, which was at the bottom of its historical valuation and much cheaper than other "disgraced" companies in the industry, such as Intel (INTC) which was trading at some 11x future earnings.
However, despite its relatively low valuation, Micron's business is quite cyclical and there were signs of weakness in the DRAM market earlier this year as well, as earnings estimates were revised down and that its valuation was approaching its historical average, I decided to sell my position and booked a small profit on this transaction in February.
Although some expected the weakness in the DRAM market to be temporary, this was not the case and Micron's stock price has trended lower this year and underperformed the semiconductor industry, as shown in the following graph (Micron is the white line).

As I haven't covered Micron for the past year, I think now is a good time to review its investment case given that the company released its quarterly results yesterday, to consider whether it is This is a potential rally game over the next few months or so it's best to stay away from this stock for a while.
MU Q4 & Analysis of FY 2022 results
Micron yesterday released its financial results related to the fourth quarter and fiscal year 2022, with annual revenue reaching $30.8 billion (+11% year-on-year), hitting a new record and net profit of 9 .5 billion dollars.
While full-year results were positive, Micron's operating momentum has weakened significantly in recent months, with results related to the last quarter being quite weak. Indeed, revenue was down 23% from last quarter and down 20% year-on-year to $6.6 billion, and was slightly below expectations. In contrast, its adjusted EPS of $1.45 was 6% above estimates, as seen in the following chart.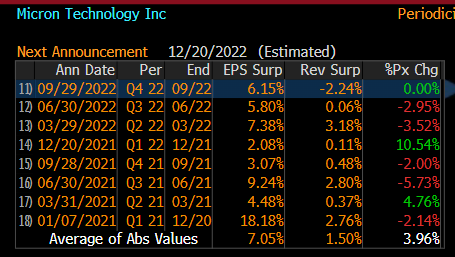 Although the decline in revenue did not completely surprise the market, it shows a worrying trend that weakening economic conditions are negatively impacting consumer demand, leading to lower DRAM prices and adjustments. inventory from Micron's customers.
This is very important because Micron derives more than 70% of its revenue from DRAM, and the price risk is mainly on Micron's side, since customers can change the price conditions from the moment of order until at the delivery. This means that in the event of a drop in demand, Micron will be significantly affected because the company does not have much pricing power. This goes some way to explaining how Micron's revenue can decline so rapidly in just a few months, and also why the market values ​​its business at very low multiples.
Nonetheless, all business segments saw lower revenue in the last quarter, showing that the weakness is widespread and not tied to any specific end market, which does not bode well for its operating momentum. over the next few quarters.

Unsurprisingly, beyond the decline in revenue, its trading margins also deteriorated with falling prices in both DRAM and NAND. While Micron's gross margin was close to 46% in fiscal 2022, in the last quarter gross margin fell to 40.3% (compared to 48% in the fourth quarter of fiscal 2021), the lowest level in the last six quarters. This is also another sign that Micron's business is highly exposed to economic cycles, as gross margin can vary significantly from quarter to quarter, which is another negative factor for earnings.
Another headwind for earnings was rising costs, as operating expenses rose 7% quarter-on-quarter to more than $1 billion in the fourth quarter. As Micron's revenue plunged, gross margin declined and costs rose in the last quarter, all negative earnings trends, unsurprisingly the company's operating profit fell 49% QoQ at $1.52 billion. Its operating margin was 22.9%, well below the 34.8% recorded in the third quarter of fiscal 2022.
As for its results, Micron reported net income of $1.49 billion in the fourth quarter, down 43% from the prior quarter, and $8.7 billion in the fiscal year. 2022 (up 48% YoY). Capital expenditures in fiscal 2022 were nearly $12 billion and its free cash flow was close to $3.2 billion.
While its annual numbers are still positive, the magnitude of the current downturn is more severe than expected a few months ago, a situation the company recognizes and is responding to. Indeed, its forecast for the next quarter was dire, as Micron only expects to generate about $4-4.5 billion in revenue (a 32-39% drop QoQ) and its gross margin is expected to be between 24 and 28% (vs. 40.3% at Q4).
This means that after a very weak quarter, Micron expects even worse for the next quarter, showing that the current market downturn is having a big impact on the company's business. Micron also announced other measures to offset the current weakness, namely reductions in supply growth coming from lower capital expenditure planned for next year, which is now expected to be around 8 billion or a 30% reduction from its previous estimate, and also the reduction in usage. in its factories.
These measures will help the company preserve cash, which is critical to maintaining a strong balance sheet and is a headwind for equipment suppliers, such as Applied Materials (AMAT). Investors should note that Micron's balance sheet remained strong with net cash of $4.1 billion at the end of the 4th quarter of fiscal 2022, but deteriorating operating trends may change this financial profile quite quickly.
For example, capital expenditures were expected to be around $11.6 billion in fiscal year 2023. So lower capacity investments will save the company some $3.6 billion. dollars over the next year, which would be difficult to fund through operating cash flow as revenues and profits decline in future years. quarters. Indeed, in the next quarter, assuming Micron delivers at the bottom of its guidance, the company will post a net loss.
Thus, cash flow generation could be limited and, if industry conditions do not improve in calendar year 2023, a reduction in its shareholder compensation policy is in my view likely. This could be another negative factor for Micron's investment case, which is probably not currently expected by the market, as the company moved towards a more balanced supply-demand position in the second half of 2023. However , the market dynamics are quite uncertain at the moment. , especially with regard to demand, and the expectation of a rebound in the second half of fiscal 2023 should be taken with a grain of salt.
Mid-term estimates and evaluation
As Micron's operating trends have collapsed over the past three months and are expected to remain weak for the foreseeable future, it is quite difficult to predict how its business will develop over the medium term. Moreover, analysts' estimates have yet to be updated following its latest results, so at present, looking for medium-term estimates is an exercise that is likely to be too optimistic.
For example, revenue estimates for the first quarter of fiscal 2023 are still around $5 billion, significantly above the company's forecast, and were above $6 billion before the earnings release. Micron. This means that revenue and earnings estimates over the next few years are likely to be revised downwards in the coming days, which is not favorable for Micron's share price.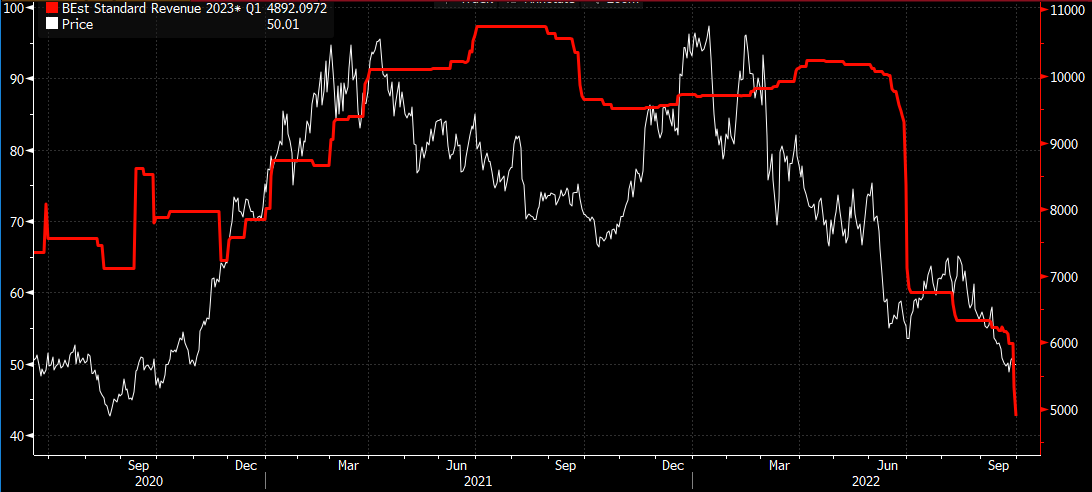 Nonetheless, the current consensus is that Micron is reporting some $21 billion in revenue in fiscal 2023 (-29% YoY), whereas in my previous post the market was expecting revenue of around $38 billion. The market expects 2023 to be the bottom of the cycle and a rebound to $28 billion in revenue is expected by fiscal 2024, followed by growth to $32.7 billion in revenue from here fiscal year 2025.
In terms of its valuation, due to the expected decline in earnings over the next few quarters, Micron is currently trading at 12 times its forward earnings, which is above its historical average for the past two years. This shows that the weakness in Micron's share price is justified by deteriorating company fundamentals, as the business is highly cyclical and can go from profit to loss quite quickly.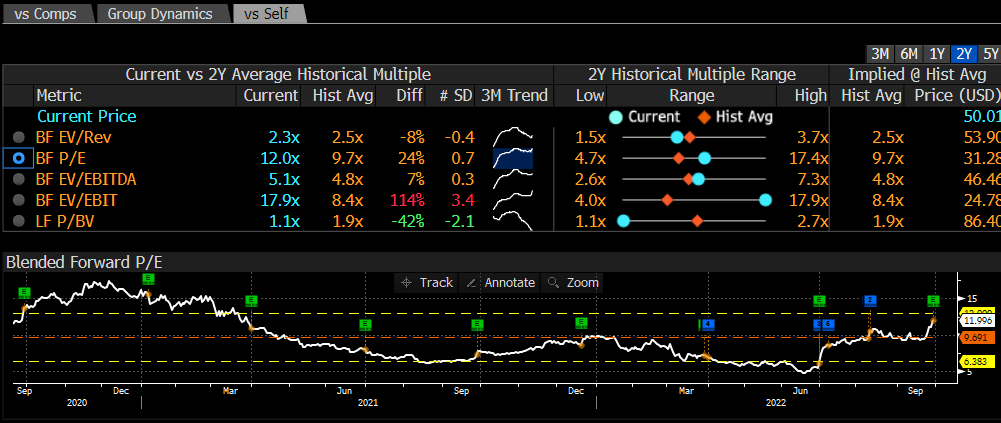 This means that unless industry conditions for the memory segment improve over the next few quarters, which seems unlikely at this time, Micron is somewhat overvalued based on its business model. historical assessment.
Conclusion
Micron's operating momentum is terrible and a quick rebound seems unlikely, even as the company tries to manage expectations of a recovery in the second half of next year. However, investors should note that Micron has stated since the last quarter of 2021 that the weakness was temporary and related to inventory adjustments, with a recovery likely in the next 6-9 months.
It clearly didn't go as planned, and Micron's recent earnings and guidance for the coming quarter were very weak, contrary to management's "advice" a few months ago. Therefore, long-term investors should steer clear of this stock, while riskier investors should view Micron as a potential speculative cyclical play on a potential pick-up in industry momentum over the coming quarters. .